Or "Dutch Kindleberger's Dream Team" as they would later be dubbed - the drafting department of North American's Inglewood facility would quite literally change the course of WWII.
There are great men and women, and then there are the teams behind those individuals that contribute to their greatness, and assure that they are remembered throughout history. The great names of North American Aviation (NAA) are well known; Dutch Kindleberger, Lee Atwood, Edward Schmued, Harold Raynor, and other giants. However, there were hundreds, and later thousands of engineering draftsmen at NAA who were the driving force behind the success of these men, and the iconic World War II aircraft we know and love today: the P-51 Mustang, B-25 Mitchell, AT-6 Texan, and T-28 Trojan.

Above: The men and women of the North American Aviation Engineering Department, Inglewood, CA, August 3rd, 1938.
WWII Draftsmen - A Forgotten Group
When you think of an engineer, it's fairly easy to paint a picture in your mind of someone who pays exhaustive attention to detail, knows that rules are meant to be followed but will always look for new and creative ways to solve a problem, a hefty dose of mathematical and analytical skills, and of course someone who shies away from the limelight whenever possible. With personalities like these, it's easy to understand why the group of NAA engineers didn't toot their own horns about the work that they did to help America win World War II. However, this modesty and the idea that they "were just doing their jobs" has meant that this incredible group of individuals has been largely overlooked when it comes to the war effort.
It's easy to forget that without the hard work and ingenuity of the people like the ones in the photograph above, none of the aircraft designers, pilots, mechanics, and Rosie the Riveters of WWII would have been able to do what they did. Everything started on the drafting tables of this very special group of people.
Why Do We Care About Draftsmen?
Before we do a deep dive into the draftsmen themselves, I'd like to give this story a bit of context. At AirCorps Library, my job essentially revolves around engineering drawings. We use them to fabricate new parts for the WWII aircraft restorations we do at our parent company AirCorps Aviation, and also make them available to the general public via the AirCorps Library website. Over the years, as I've combed through hundreds of thousands of engineering drawings from some of the most iconic WWII aircraft, I began to wonder about the people who created them. Each drawing is signed by the draftsman who penciled it, but I was becoming increasingly curious to know more about them. Then in 2018 I met Ken Jungeberg, and the way I thought about draftsmen changed forever.
The Ken Jungeberg Collection
Ken Jungeberg started working as a draftsman at North American's Columbus Ohio facility in 1969. Ken's love of aviation started when he was a small child - he loved the history of NAA, and to this day his favorite aircraft is the B-25 Mitchell. 19 years later in 1988, Ken had been promoted several times to become the head of the Master Dimensions department in Columbus, when he heard that the plant was set to close. He also heard a rumor that all of the "non current" data from the engineering vault was slated to be burned - this included engineering drawings related to the P-51, B-25, AT-6, and more! Through a truly incredibly series of events, Ken became the caretaker of approximately 50,000 NAA engineering drawings from the vault, that would have otherwise been destroyed. To read the full story of how Ken saved these drawings, click here. For over 30 years, Ken had been scratching his head about what he would eventually do with this incredible collection of information, and in 2019 we came to an agreement in which Ken transferred the entirety of the NAA collection he had been preserving to AirCorps Aviation for safekeeping.
Our goal with the collection is to preserve the drawings in the same way that Ken had done, and also allow the aviation community to enjoy its wonders. As the one in charge of cataloging what we now call the "Ken Jungeberg Collection", I have gotten the amazing opportunity to sift through original drawings done by NAA draftsmen that have never been touched by the hands of a non-NAA employee. Sorting and cataloging these drawings only increased my interest in the draftsmen and telling their story - but where to start??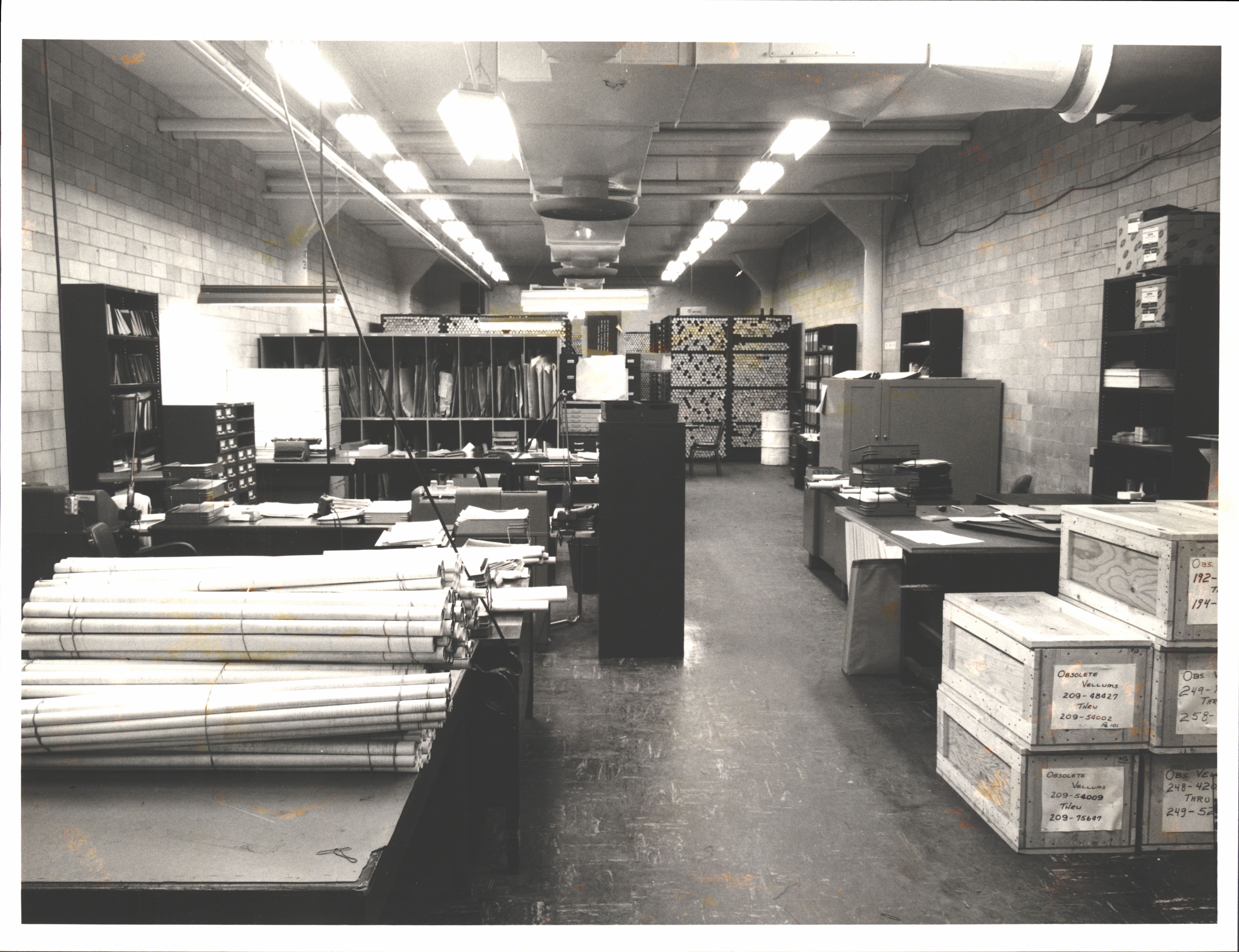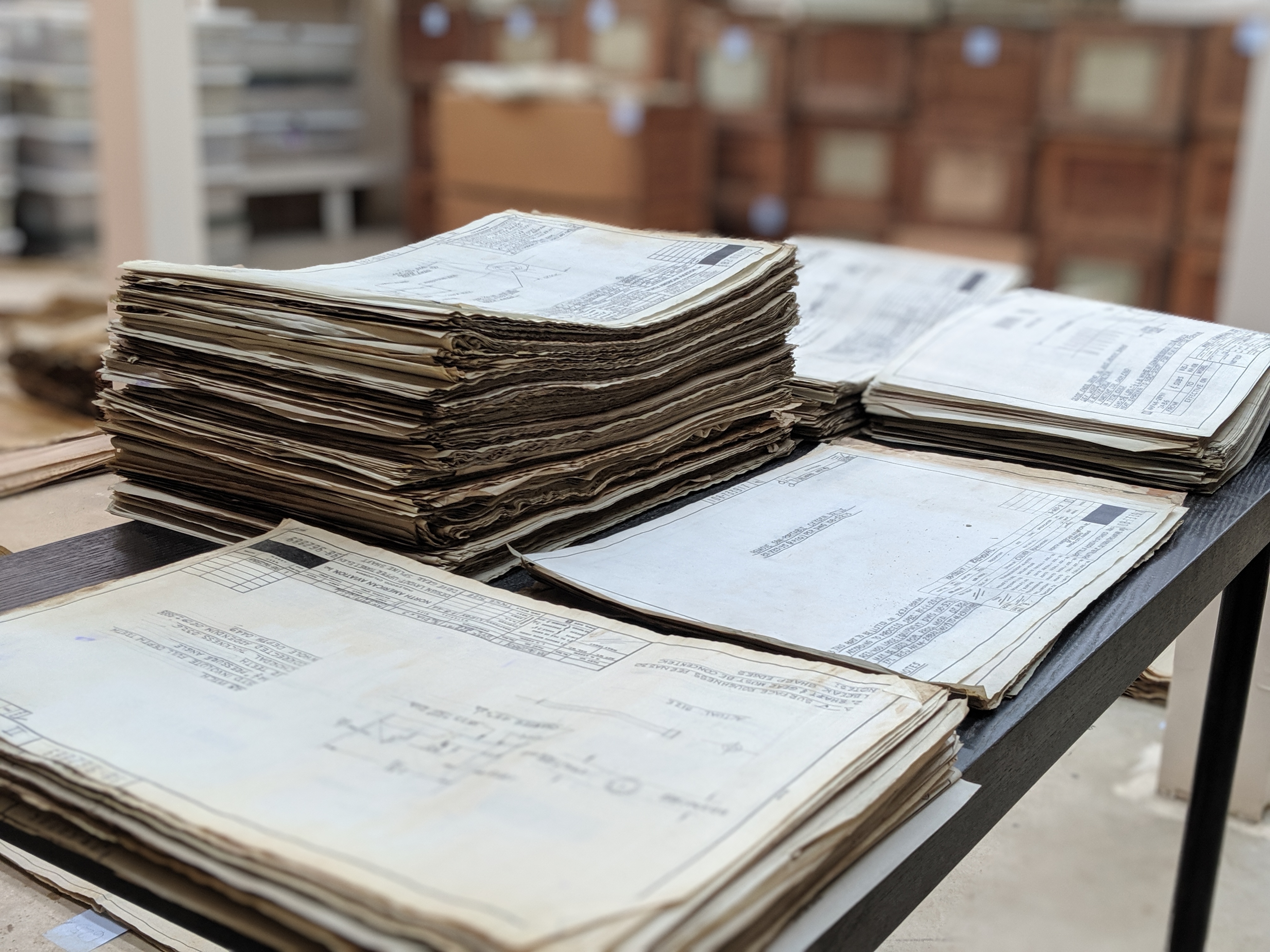 Above left: An original photograph of one of the rooms of the NAA Engineering Vault at the Columbus, OH plant. Above right: Stacks of drawings being put in numerical order by part number after their transfer to AirCorps Aviation.
A Single Photograph, 167 Names
I had spoken with Ken numerous times about my interest in finding more information on who the draftsmen were, and telling the stories of how they came to work at the factory. During one of these conversations Ken had told me that there was a photo of the engineering department that listed the names of the draftsmen, but we had been unable to locate it. Then, several days ago as I was paging through a 2001 issue of the North American Retirees Bulletin, there it was - a photo from August 3rd,1938 labeled "Dutch Kindleberger's Dream Team". Suddenly, I had a photo in front of me with 167 faces, and their first and last names right there in black and white - I was ecstatic!
Why was this photo so important? Well, if you've ever looked closely at an engineering drawing (or created one yourself) you know that the draftsman signs a drawing once it is completed. However, the drawings in Ken's collection are most often signed using only the last name of the draftsman. Only having last names to go off of, had made it almost impossible for me to locate additional info, or search for the families of any of the draftsmen.

Above: As seen in the Spring 2001 edition of the NAA Retirees Bulletin, this 1938 photograph shows the men and women who made up "Dutch Kindleberger's Dream Team" or the Inglewood Engineering Department.
Row 1 (Top): Larman Jirsa, John Brueckner, Larry Ernst, Andy Schmidt, Carl Torrensen, Art Ford, Roy Raynor, Paul Wierk, David McCalla, Jim Broadston, Cecil Davis, Ray Kochevar, Dick Pribil, Walt Spivak, Les Hall, Norm Surtees, Howard Field, Johnny Kimball, Bill Beardslee, Duan Olmore, Bob Morgan, Guy Huffaker, Marvin Burtnett, Frank Walton, Harry Zuckerberg, Ed Horkey, Paul Anderson
Row 2: Paul Anderson, Al Strong, Bill Harris, Lee Norwood, G.B. Moores, Francis Butler, Stan Hellman, Frank Siminger, Bob Dodds, Chandler King, Ed Spring, Jack Burnett, Thurmond Bibb, Warren Knieriem, Eugene Moskow, Frank Seltzer, Joe Dobler, Al Rosenberger, Henry Raeber, Stan Hall, John Bennett, Don Leitch, Pres Spalding, Howard Westling, L.A. Kent, Fred Boeke, Sub Makela, J.F. Davenport, Howard Evans
Row 3: Bud Childs, Ray Clark, H.A. Ericksen, Gus Ruppert, Joe Beer, Dane Roe, Indra Lusk, Harold Zimmer, A.C. Thore, Tom Bonde, George Bentley, Jack Hill, Bill Barker, Bill Edmonds, Herman Fleck, George Gehrkens, Ralph Maxwell, J.L. Brock, Paul Jones, Art Hausemann, Paul Haworth, Kent Thompson, Vein Wager, Dan Holloway, Clyde Maulding, Fred Prill
Row 4: Bill Morgan, Herb Snow, Bob Hartle, Edward C. Robinson, Harry J. Carney, Arthur Di Staci, Bill Carr, Bob Baker, Fred Morgan, Charles Kinzek, Dick Smith, Roland Hall, Floyd Wright, Fred Smith, Al Trich, Karl Koenig, L.J.Fuller, Lowell Perkins, Dave Hoffman, Thurman Wood, Al Algier, Cy Holton, Earl Butler, Peter Tassop, Eugene W. Browne, Loring K. Margiot
Row 5: Bob Rios, Chet Coleman, Gus Edwards, Bob Walker, Louie Berthelson, Bert Binge, Carl Wolf, Si Reppert, Dick Bumb, Bob Sheldon, Johnny Young, Herb Baldwin, Red Hansen, Dave Mason, Henry Trich, ? Anderson, Stan Zemansky, Lee Glaze, Earl Defibaugh, Milt Schoenfeldt, G. Sturgess, Johnny Maxian
Row 6: Eric Martin, Eunice Le Melle, Doris Bellman, Pat Andrews, Dorothy Lewis, Racquelle Rios, Roberta Clark, Helen Head, Francis Shumaker, Mike Fleck, Mary Hannum, Newt Houston, Ray Rice, Noble Shropshire, Lee Atwood, Harold Raynor, Ed Schmued, Dick Schleicher, Alex Burton, Frank Sigafoose, Joe Myser, Gordon Thorne
Row 7: Ray Lamb, Terry Allen, Bob Greenwald, Frank Allen, Win. R. Otey, Ivar Peterson, Art Bevers, Marc Malsby, Buzz Holland, John Jonas, Bob Mease, Clay Chapen, Bill Rommel, Dick Alexander, Tom Tremayne, Dan Izzo
Making Connections - Putting Faces to Drawings
Right away as I started to read through the list under the photograph, familiar names began jumping out at me - names that I had seen hundreds of times written in the title block of a drawing. But now, I had a face that went along with those names, and the feeling was amazing. By itself, an engineering drawing is a very technical piece of history - it tells the story of how the part was modified over time, it's dimensions, applicability to certain aircraft, what material it's made out of, and a variety of other technical details. However, these drawings are much more than numbers on paper, they are a visual history of a group of individuals who did their best work for their employer and their country during WWII - all without being enlisted. These were the 167 people staring back at me.
"Meeting" a Draftsman - Fred Prill
Since embarking on the cataloging process with Ken's Collection at the end of 2019 I had only been able to locate the family member of a single draftsmen - Fred Prill. I had seen the last name "Prill" listed as the draftsman on many early P-51 drawings, and due to the unique last name, I was able to track down some details on, and actually get in contact with Fred's son, Bob Prill. After several hours talking with Bob, I had pages of note paper filled with so much information about Fred that I felt like I knew him! Bob's stories about his father, coupled with the fact that I had held quite a few of Fred's drawings in my hands was an incredible feeling. Here is just a bit of the information that I learned from Bob, and through some additional research of my own:
Fred was part of the initial team chosen to perform design work on the NA-73X, the first prototype of what would later become the P-51. Like many NAA employees, he stayed with the company long term, and went on to become the lead engineer for the F-86 (which would remain his favorite aircraft for the rest of his life). Bob vividly remembered Lee Atwood visiting their home for dinner on multiple occasions and sitting at their kitchen table talking shop with his father. Other stories included Bob's time playing baseball at NAA's "Baseball School" at the Inglewood rec center, and his first flight experience, at 12 years old, riding along with his father during a T-39 Sabreliner test flight! Bob described his father as being "married to North American", as he recounted his father's stories of sleeping on a cot at the factory while working on the NA-73X, but importantly, he did qualify this by saying that his father "never made my mother feel second best."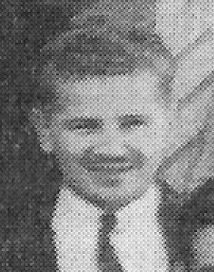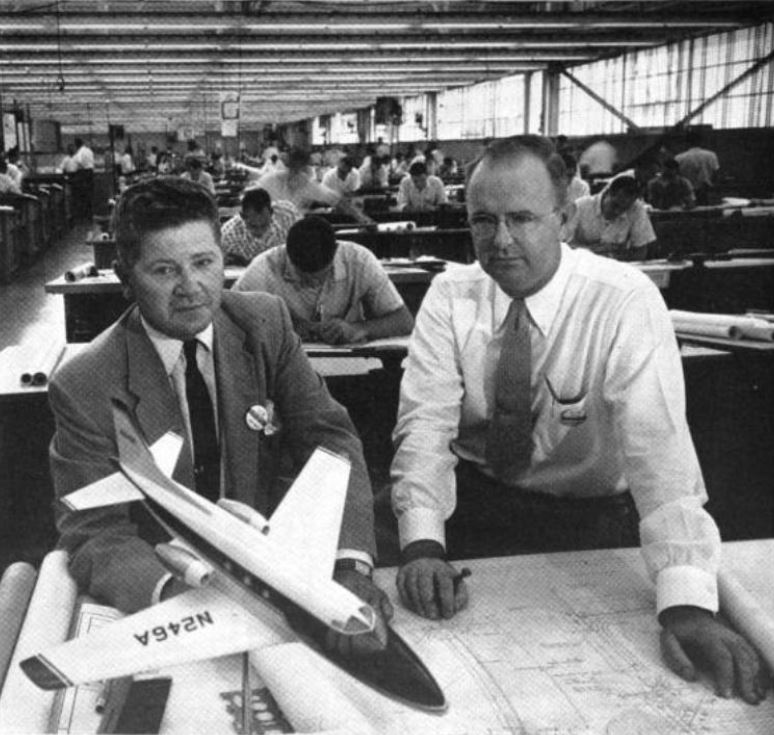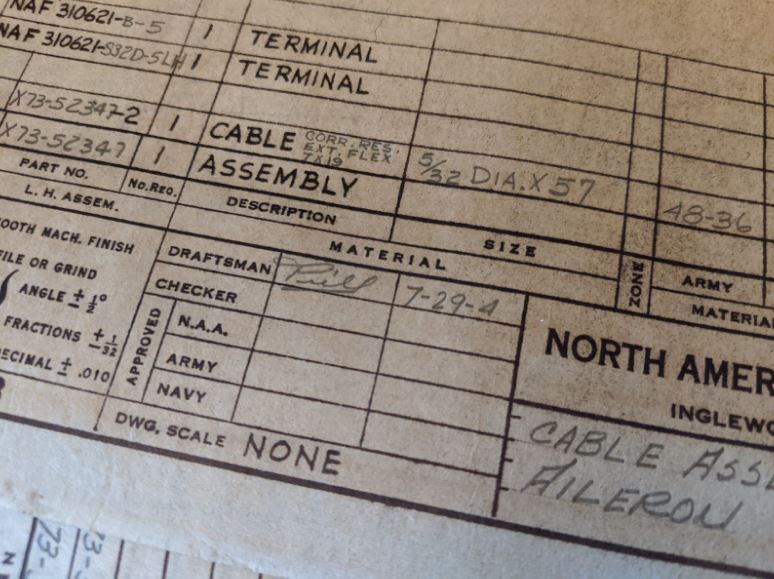 Left: A young Fred Prill as seen in the group photo that is the subject of this blog - he is on the far right of the third row.
Center: Fred (left) from a photo printed in the Winter 1958-59 issue of NAA's Skyline publication during his time as the head of the engineering group for the T-39 Sabreliner. Note the drafting room behind him, still bustling with draftsmen in the post war years.
Right: One of Fred's drawings that made his name stand out to me out of the thousands in Ken's collection. Most draftsmen signed their names using the standard handwriting they were trained to use - Fred did his name with a flourish! Currently, I have cataloged 78 of Fred's drawings, including a group of 16 which are all related to the X73 aileron and rudder parts and assemblies (drawn from June to July of 1940).
Connecting the drawings back to the human stories surrounding the people like Fred who drew them, is part of what has made Ken's collection come to life. As the years go by, and we are left with fewer and fewer individuals who can remember the war years, it is more important than ever to catalog their stories by whatever means are available. While Fred Prill passed in 2003, I feel I got the chance to know him through his son, and getting to handle the drawings done by his own hand is a very humbling experience.
More From The "Little Guys"
In some senses you can say that the draftsmen were doing the "dirty work" of putting an aircraft on paper. It was their job to draw each part and assembly with exacting accuracy, so that these parts could be fabricated and fit precisely where they needed to go. But this seemingly mundane task is one that the draftsmen did with incredible craftsmanship - with what I like to call "Technical Artistry". When you look at an original engineering drawing, it's important to remember that all the drafting that was being done during WWII was done by hand. No computers for this group, just erasers, slide rules, pencils, compasses, triangles, T-squares, and the like. Their talent as engineers (and as artists) is not up for debate when you examine their work. Their lines are even, handwriting perfect, and the level of detail so startling that sometimes it's hard to believe it was done by a human hand. Below are several of the draftsmen whos names I recognized from the group photo, along with a drawing that they completed. I think you'll agree that it adds meaning to see their smiling faces next to their work.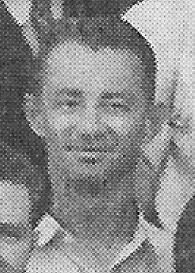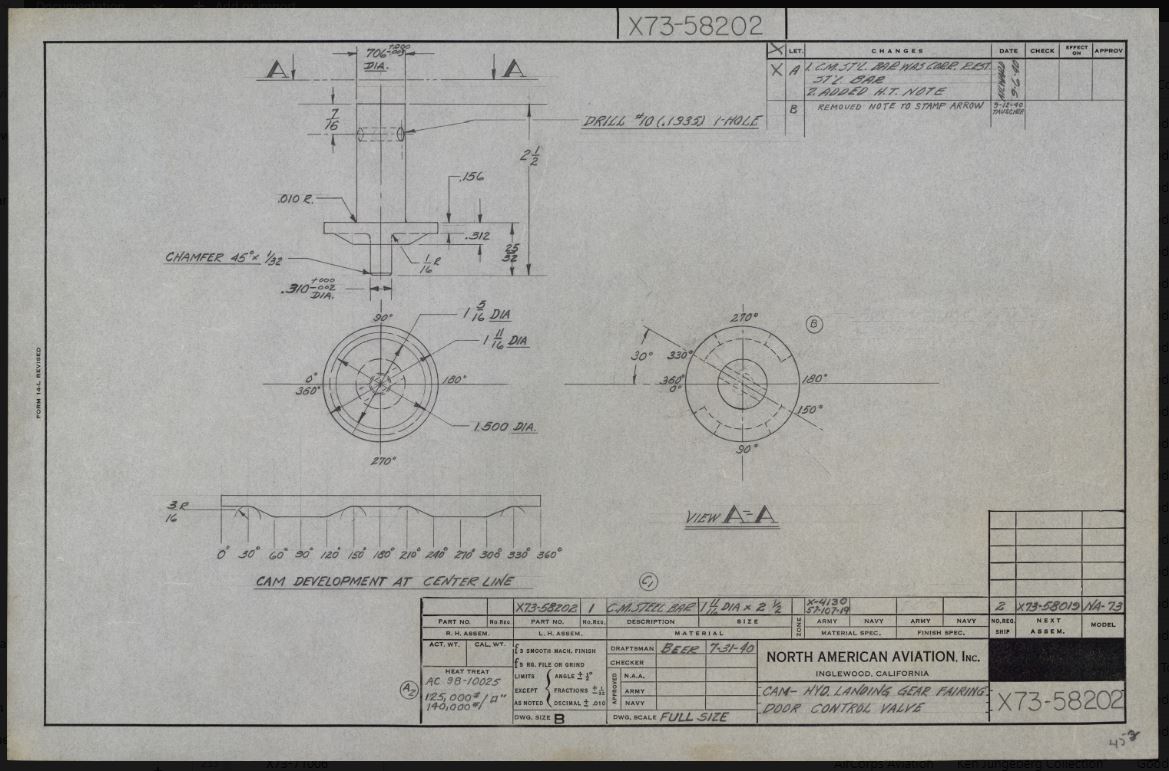 Joe Beer:

Pictured 5th from left in the third row (from top) finished this drawing of the hydraulic landing gear fairing door control valve cam on July 31st, 1940.

This particular part (X73-58202) was designed for the flagship/prototype P-51, designated NA-73X by North American. This means that Joe was part of the carefully selected team that worked on designing the NA-73X during the 117 day period they had promised the government. The X73 team was very small, so Joe must have stood out from the crowd to be chosen for such a prestigious assignment.
---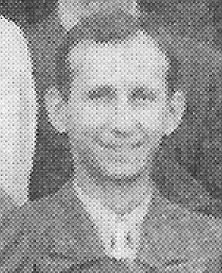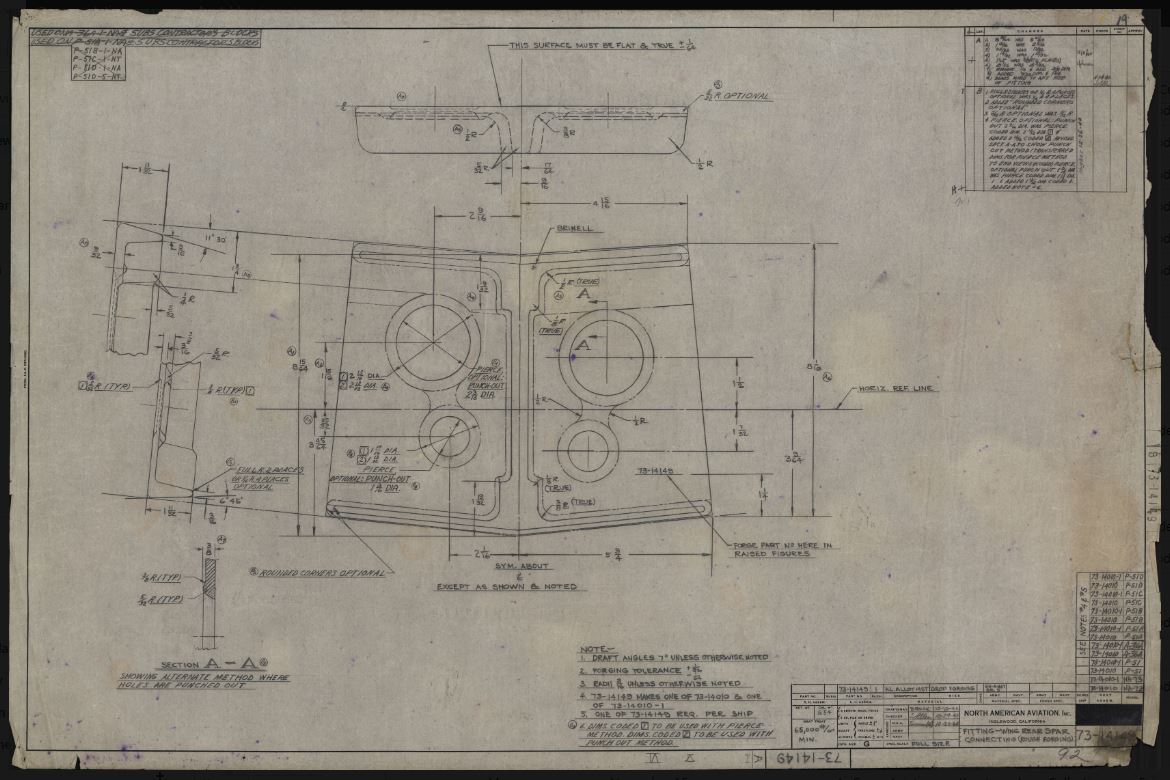 J.L. Brock:

Pictured 9th from right in the third row (from top) completed this rough forging drawing of the wing rear spar connecting fitting on October 10th, 1940.

This fitting would be used on the NA-73, A-36, and P-51A, B, C, and D model Mustangs, meaning that J.L. had a hand in almost every single P-51 that flew during WWII - quite a feat! Like all production drawings, this one was photographed and transferred to microfilm so that it could be distributed to the mechanics working on the aircraft. You can view the microfilmed version of this drawing, part number 73-14149 on AirCorps Library.
---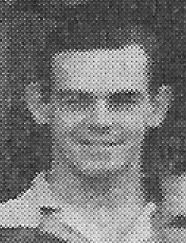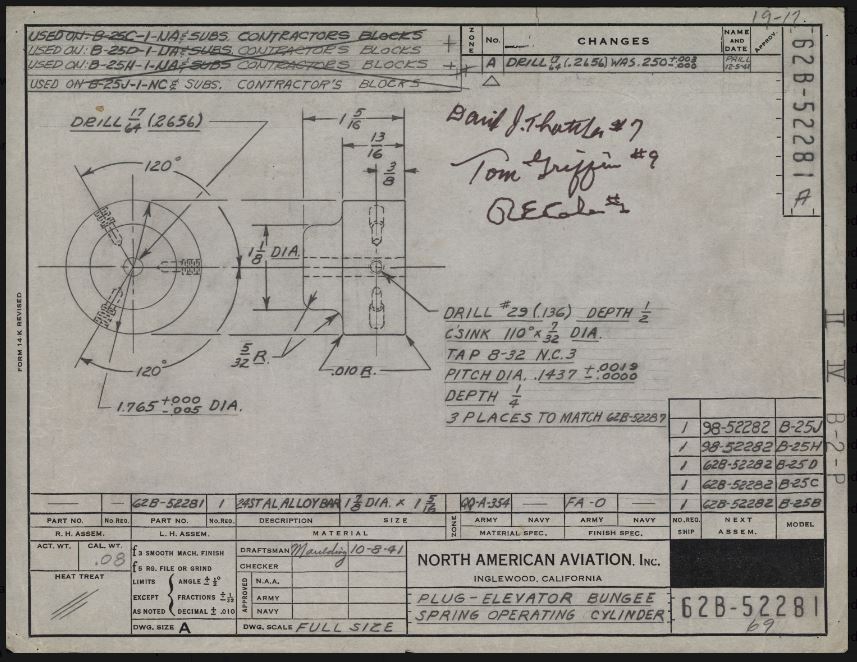 Clyde Maulding:

Pictured second from the right in the third row (from top) completed this drawing of an elevator bungee spring operating cylinder plug for the B-25 Mitchell on October 8th, 1941.

While this plug was used on the B-25B, C, D, H, and J models, it's the signatures that make this drawing really special. After Ken acquired the collection of drawings when the Columbus factory closed, he stayed in Ohio for the rest of his career, and still resides there today. Luckily for him, he lives within easy driving distance of the U.S. Air Force Museum in Dayton. This meant that over the years Ken had the opportunity to attend the yearly events honoring the famed Doolittle Raiders held at the museum. At several of these events Ken brought a handful of drawings from his collection and had the attending Raiders sign them. Clyde's drawing is one of these, and you can see the three signatures of David Thatcher (#7), Tom Griffin (#9), and Dick Cole (#1) in the empty area below the change block.

I'm sure Clyde would have been honored to know that these men signed one of his drawings, but the Raiders would likely have shook Clyde's hand and thanked him for the work that he did to bring the B-25 from the pages of vellum to the skies over Japan.

In another interesting coincidence, Clyde happens to be standing next to Fred Prill in the group photo. Were they friends? Or was it a random placement? Either way, their smiling faces give us an idea that they enjoyed their work, and had least some idea of the impact they would have on the history on NAA.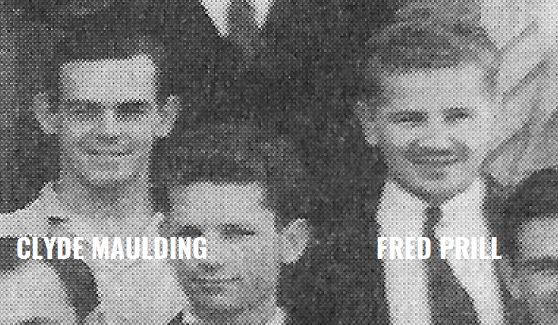 Let's Find Their Families!
As I continue to work through cataloging the drawings in Ken's Collection, one of the major goals is to locate family members of the draftsmen, and connect them to the drawings. We don't often think of engineers playing a critical role in history, but the work they do effects every aspect of our lives, today more than ever. After having the opportunity to speak with Fred Prill's son Bob, I know that there are more incredible stories that I have yet to hear about the draftsmen - and I want to record and share those stories. As we lose more and more members of the Greatest Generation, making connections with the families of the draftsmen is even more meaningful. Who wouldn't be interested to know that their grandfather designed parts that were used on thousands of aircraft, and have the opportunity to hold one of their drawings in their hands? These drawings are a tangible reminder that without the craftsmanship displayed by the draftsmen, we would not have been able to build the aircraft that helped us win the war.
If you have any information pertaining to the individuals shown in the group photo in this blog, or any other draftsman who worked at North American Inglewood during World War II, please do not hesitate to reach out to me directly at: estera@aircorpsaviation.com