The AirCorps Library online store has one of the largest available collections of Hamilton Standard technical manuals.
Many people have questions about Hamilton Standard propellers and the associated governors, hubs, and cuffs that were used with them during WWII. The new storefront offered from AirCorps Library has almost 100 technical manuals specifically related to Hamilton Standard Propellers, along with many other manufacturers, and is the place to get technical answers to questions related to WWII props.
Hamilton Standard produced a massive number of propellers during WWII and their models were used on some of the most iconic aircraft of the time period, like the P-51 Mustang, B-17 Flying Fortress, C-47 Skytrain, B-25 Mitchell, and AT-6 Texan to name a few. The chart below shows the propeller model/hub, governor, and engine that these aircraft utilized (from the 1946 and 1945 versions of the manual "List of Propellers and Governors for Service Aircraft"). Click the yellow links to preview manuals related to the specific models listed.
Aircraft

Hamilton Standard Prop (Hub) Model

Governor

(Initial) Engine Installation

P-51B, C


24D50



4F10-G21D
V-1650-3, -7
P-51D

24D50



4G10-G29G
4G10-G21D (for -7 eng.)
V-1650-3, -7
B-17F, G

23E50



4G8-G23G, 4G8-G30M
R-1820-97
B-17H

23E50



4G8-G23G
R-1820-97
C-47A

23E50



4G8-G23G
R-1830-92
C-47B
23E50
4G8-G23G
R-1830-90C
C-47D
23E50
4G8-G23G
R-1830-90D
B-25C, D

23E50



4L11-B2T
R-2600-13

B-25G, H

23E50



4G8-G15D, 4G8-G15G,
4G8-G23G
R-2600-13
B-25J
23E50
4G8-G30M, 4G8-P30M
R-2600-29
AT-6A, B, C, D

12D40



1M12-G, 1M12-A
R-1340-47, -AN-1-49

Test
This information is qualified by the following statement in the manual introduction "Due to the great number of models of propellers and governors, and the high degree of interchangeability, no attempt has been made… to list all possible models which can be used in a particular airplane. The models shown are those which were installed in production."
The following image taken from a Hamilton Standard company booklet illustrates how prolific they were during WWII in supplying propellers to manufacturers! CLICK HERE to preview the manual.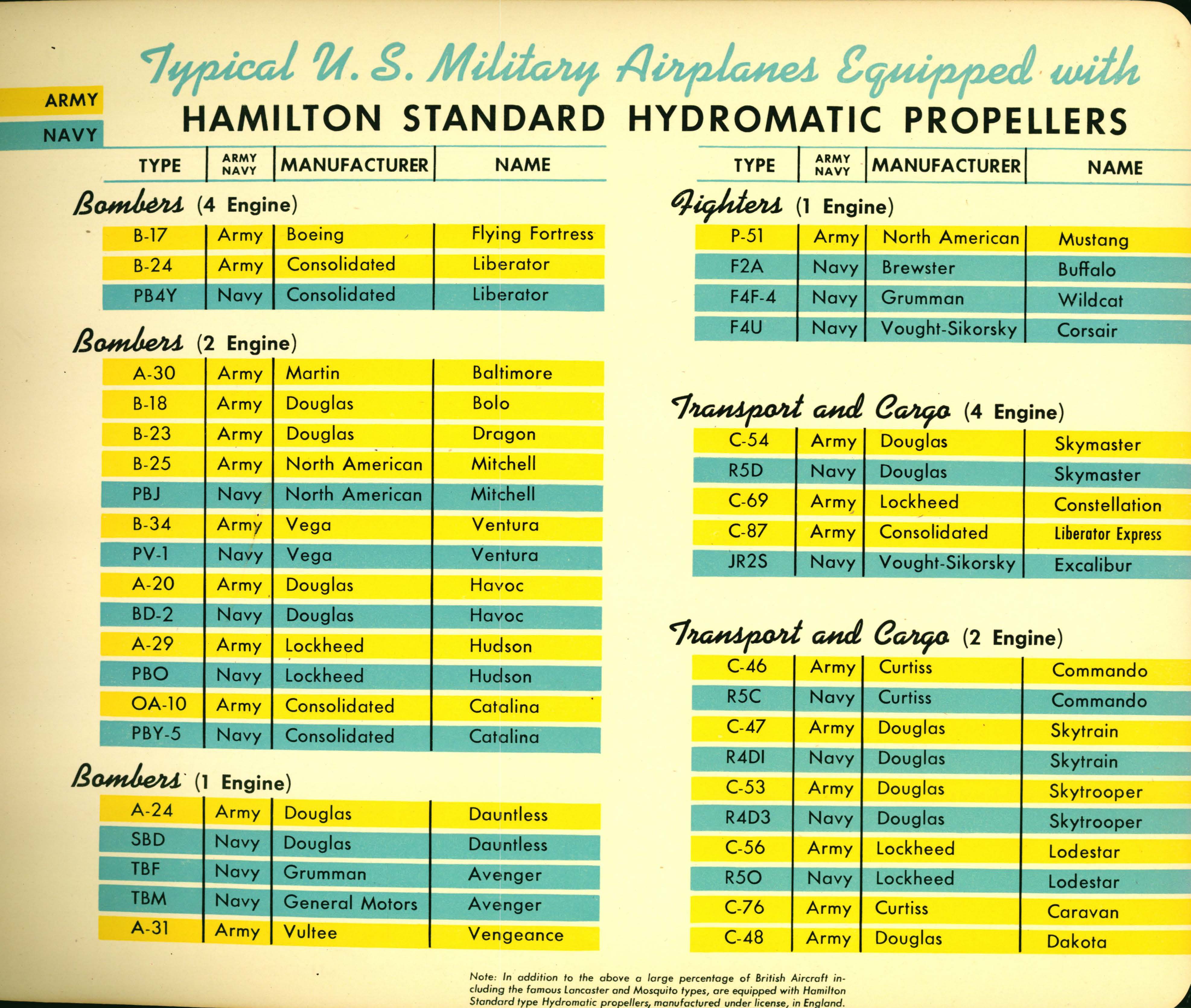 CLICK HERE to view the Hamilton Standard manual that covers overhaul of 23E50, 23D40, 24D50, 33D50, and 33E60 propeller models - all in one place! or HERE to view our full catalog of Ham-Std manuals.